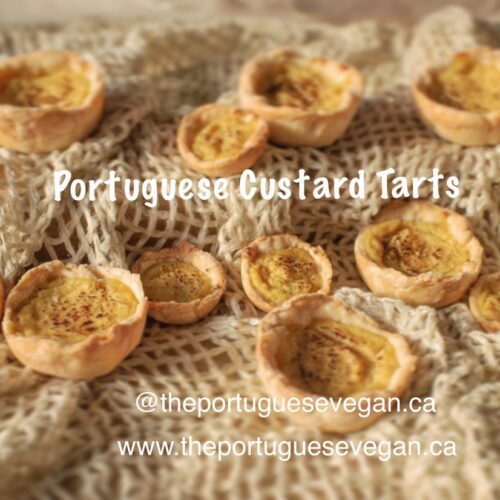 Queijadas (Pastéis de Nata) – Portuguese Custard Tarts
theportuguesevegan
You cannot visit a Portuguese bakery or attend an event without seeing these all famous desserts.  They are the royalty of all Portuguese Desserts!  Normally made with eggs, butter, and milk I have updated the recipe to be completely vegan. Roll up your sleeves and impress your family and friends with these sweet and delicious, cruelty free Queijadas.
If you are looking to take a shortcut and reduce preparation time see the notes below on suggestions to purchase an already make product for the pastry portion.
Course
Appetizer, Dessert, Snack
Equipment
Cupcake Tray

Rolling Pin

Food Processor
Ingredients
Pastry Cup Ingredients
1½

cups

all-purpose flour

¼

teaspoon

salt

½

cup

vegan butter

(or vegan margarine/butter)

3½

tablespoons

ice water

2

teaspoons

white vinager
Custard Ingredients
½

cup

raw cashews

(soaked in hot water for a minimum of 45 min)

⅓

cup

maple syrup

1

package

soft tofu

 (about 300g)

1/2

a lemon

zest only

1

teaspoon

pure vanilla extract

⅛

teaspoon

ground turmeric

2½

tablespoon

cornstarch
Instructions
Soak your cashews in hot water for 45 minutes minimum.

If you want to skip making the homemade pastry cups then you can purchase premade pastry cups/shells. (please see notes below and skip to step 4) Then add the custard to the ready-made shells. If you are sticking to all homemade then keep reading.

In a large mixing bowl whisk flour and salt thoroughly. Cut in your vegan butter/margarine to the flour and salt bowl. If you are not aware what "cutting in" refers to it is basically taking two butter knives and making a repetitive cutting motion outwards until the butter has broken up into smaller ball-shaped pieces that are all coated with flour. This could take about 5 minutes to do but it does make quite the difference in the final product. If you are questioning whether you are doing it correctly just quickly look up a video online and you will see what the final result will look like.

In a separate small bowl or cup mix together the ice water and vinegar. Slowly add it to the large bowl of flour and butter while mixing gently. With your hands form the dough into a ball, keep it in the bowl, and cover the bowl with plastic wrap. Set it aside in the fridge until you have completed the custard.

Drain the cashews and add them to your food processor with the maple syrup. Process on high until the mixture is creamy with no large pieces. Once smooth, add the remaining custard ingredients, minus the cornstarch, and blend away. At this point you can also preheat your oven to 375°.

Transfer the custard from the processor to a pot on low heat. Mix continuously while slowly adding the cornstarch. Stir for 5 minutes on low heat and then set aside to cool.

Remove your dough ball in the fridge. Lightly sprinkle flour on your work surface and roll out the dough to a fairly thin state. No more than a couple millimeters thickness. About as thick as the rim of a wine glass because they will puff up when baked.

7. Use a cookie cutter or something circular (a thin-rimmed mug or glass) to cut out circles about 3½ inches in diameter. Place circles in the cupcake tray forming them to the shape of the cupcake mold. Do this for all 12. Take care that no tart shells have jagged pointed out pieces as these will brown and burn the dough during baking.

Spoon the cooled off custard into the dough tarts, filing up about ¾ to the rim. Try not to get custard on the rim. Smooth out the custard so it's flat in each tart. Bake in the oven at 375° for 25 minutes until shells are a light toasted brown.

Remove from oven and let cool. These can be stored in an airtight container in the fridge for up to one week.
Notes
If you do not want to make the pastry shells from scratch you can look for pre-made dough that is "accidently vegan." Meaning that the manufacturer did not create their product for vegans, but lucky for us there are no animal products listed in the ingredients list.  I suggest using Pillsbury Crescent rolls as all you have to do is unroll the dough from the container.  Please note these will be denser than and not as health-wise as the homemade recipe above.  Similarly you can take a browse at the grocery store and find some Phyllo/Filo pastry shells that are vegan as well.  Good luck on the search and be sure to read all the ingredients.
• If you have any leftover pastry dough after filling up the tarts I usually get creative and spread some jam onto it and roll it up into a croissant to bake.
Keyword
crust, custard, delicious, nata, natas, pasteis, portuguese, queijada, queijadas, tart