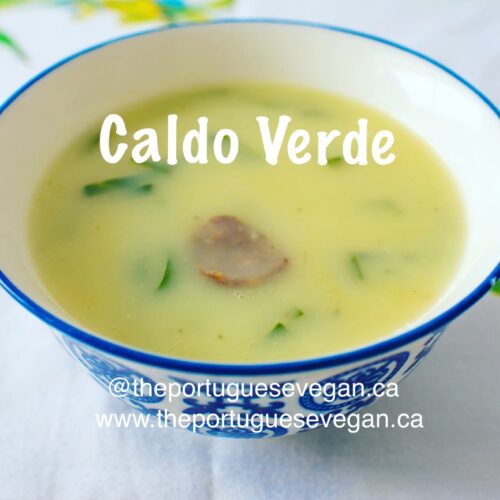 Caldo Verde – Green Soup
If you have ever vacationed in Portugal this soup is advertised in restaurants everywhere! Oddly enough it was not a staple on the island of São Miguel when my mother lived there. At that time this dish had not yet reached the Açores islands. My mother only learned how to make this soup after she moved to Canada and got married. It's often served at weddings as a starter dish because it's such a delicious light-tasting soup.
Ingredients
10

cups

water

8-9

medium sized white or russet potatoes

1

vegan vegetable bouillon cube

2

vegan sausages

5-6

collard leaves

3

tablespoons

olive oil

2

teaspoons

salt
Instructions
Add the water to a large pot and bring to a boil. While waiting for this peel potatoes and cut into bite size pieces. Rinse and add them to the boiling water along with the bouillon cube. Boil for 20 minutes.

While the potatoes are boiling add your vegan sausages to a frying pan and cook them thoroughly as directed on the package label. These will be added to the soup at the very end to prevent them from dismantling while cooking. I suggest cutting them up prior to frying them so the pieces will be stronger to add to the soup later. Set aside once cooked.

Returning back to your boiling potatoes, once they are soft and cooked remove the pot from the heating element. Take your hand held processor and emulsify the potatoes in the water. If the mixture is a bit runny it will thicken with time. Place the pot back on the heating element on a low boil.

Next you want to de-stem the collards. Then cut them up into very thin pieces. About a half a centimeter in width and no more than a couple inches in length.

Add the cut up collards, olive oil, and salt to the soup and boil lightly for 25 minutes stirring occasionally. Right before serving add a few slices of vegan sausage to the bowl and enjoy!
Notes
• Be sure to check if the bouillon cube is vegan. I use GoBio brand.
•This soup will thicken when cold. Reheating it on the stovetop is the preferred method to consume any leftovers.  If needed, add a small amount of water when re-heating.
•There are two type of vegan sausage I prefer to buy for this recipe that taste close to the traditional Portuguese sausage: Gusta Artisanal Vegan Wheat Sausage (Espanõla Flavour) OR Tofurky Plant Based Sausage (Italian Flavour)
Keyword
caldo, caldo verde, collards, green soup, portuguese vegan, soup, vegan