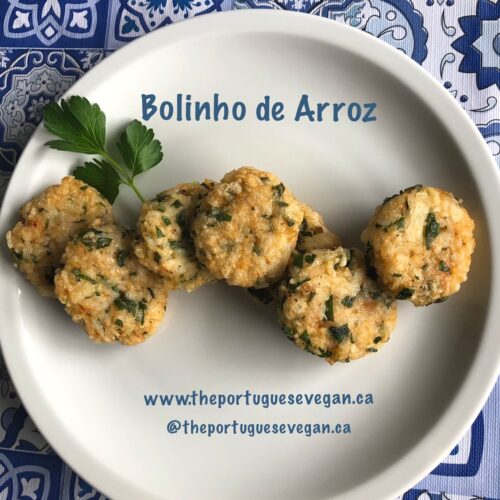 Bolinho de Arroz – Rice Fritters
theportuguesevegan
These make a delicious and quick appetizer that can be brought to a party or made for a snack. They can be served hot or cold. I sometimes treat them like Arancini balls and dip them in a tomato sauce. Get creative and enjoy!
Course
Appetizer, Side Dish
Cuisine
portugal, portuguese, vegan
Ingredients
1

cup

Italian Style Rice

2

cups

water

¼

cup

green onions

chopped

½

cup

parsley

½

cup

shredded vegan mozzarella cheese

¼

cup

cornstarch

½

teaspoon

garlic powder

1

teaspoon

paprika

¼

cup

olive oil

or flavourless oil
Instructions
Do not rinse the rice before cooking. Combine the rice, water, and salt in a pot on low to medium heat. Cook time varies so follow the rice package guidance. It's usually about 12-15 minutes for this type of rice. Taste to ensure the rice is cooked thoroughly before removing the pot from the burner. Drain excess water if needed and set aside to let the rice cool.

While the rice is cooling down you can rinse, pat dry, and chop the green onions and parsley.

Transfer the cooled rice to a mixing bowl. Add all the remaining ingredients to the bowl, minus, the olive oil. Mix thoroughly. Get your hands in there if you need to in order to combine all the ingredients and spices. Taste the rice and add salt if needed.

Add the oil to a large frying pan. There should be enough oil to cover the entire bottom of the frying with a thin layer. While the oil is heating up grab small handfuls of the rice mixture and form them into ball shapes by rolling them between your hands. Pat them down slightly so they are thinner and flatter. They should be about 1.5 inches wide.

Place as many fritters as you can in the frying pan and fry each side for 4-5 minutes, or until golden.

Place them on a plate or tray lined with paper towels once removed from frying pan to absorb the excess oil. Enjoy!
Notes
• We use Italian Style Rice because of its width and stickiness it tends to stick better together. As a time saver you can precook the rice the night before and leave it in the fridge overnight.
• You can also use rice leftovers for this recipe. Just be cautious of non-compatible flavours. They may also require a bit more cornstarch to stick.
Keyword
arroz, bolinho, fritter, rice