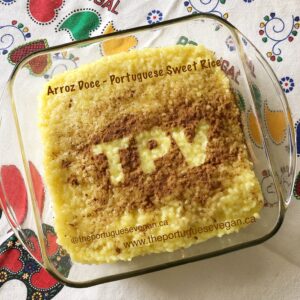 Arroz Doce – Portuguese Sweet Rice
theportuguesevegan
This is a very simple and traditional one-pot dessert recipe. Arroz Doce is often served with coffee or tea when guests visit or at events. It is denser than the traditional rice pudding you would see for sale in grocery stores. This recipe requires something I lack, patience. The trick is to keep the rice at a low boil and stir often so there is no sticking or burning to the pot. With that tidbit, you will be eating sweet rice in no time.
Cuisine
portugal, portuguese, vegan
Ingredients
5

cups

unsweetened original almond milk

(or unflavoured dairy free milk of choice)

2

cups

italian styled rice

(this rice is shorter and thicker than traditional rice)

4

tablespoons

vegan butter or margarine

2

cups

sugar

¼

teaspoon

pure lemon extract

(double if you like a tart lemon taste)

⅛

teaspoon

turmeric

a sprinkle of cinnamon
Instructions
In one large pot on medium heat add all the ingredients, except for the turmeric and cinnamon.

Bring the pot to a low boil and stir consistently to ensure the rice does not stick and burn. Continue this low boil for 40 minutes or until about 80% of the liquid has been absorbed.

Taste a few grains of rice to make sure they are cooked thoroughly and have no 'hardness' left to them. Once this is the case, add/stir in the turmeric and then remove the pot from the heat and set aside for 5 minutes. The majority of the remaining liquid will be absorbed.

Pour mixture into a 9×9 heat resistant pan (or serving dish of choice) and compress it down lightly so there are no air pockets and the top is smooth. Let cool.

Sprinkle the dish with cinnamon, cut into squares and enjoy.
Notes
• This dessert can be served hot or cold.
• The turmeric in this recipe is solely used to mimic the colour eggs with have given this dish so DO NOT be generous with this spice as you would not want your dessert to taste like turmeric.
• Designs are often made with the cinnamon sprinkles on top, get creative!
Keyword
arroz, Arroz Doce, dessert, doce, rice, sweet, sweet rice